The following article by Mark Buchanan was recently published on Medium. It discusses recent analysis by Nassim, along with Pasquale Cirillo, of historical warfare statistics. This analysis contradicts the popular idea that future violent wars are unlikely:
Violent warfare is on the wane, right?
Many optimists think so. But a close look at the statistics suggests that the idea just doesn't add up.
A spate of recent and not so recent books have suggested that "everything is

» Continue Reading.
As the keynote speaker for the 2015 Fletcher Political Risk Conference, Nassim spoke about Fat Tails.
Nassim joins psychologist Daniel Kahneman and journalist Gillian Tett in discussing intuition and instincts and their consequences in decision-making.
Nassim's statement on climate models, along with Joseph Norman, Rupert Read, and Yaneer Bar-Yam. He says, "We have *only one* planet and need to learn to live with imperfection of models."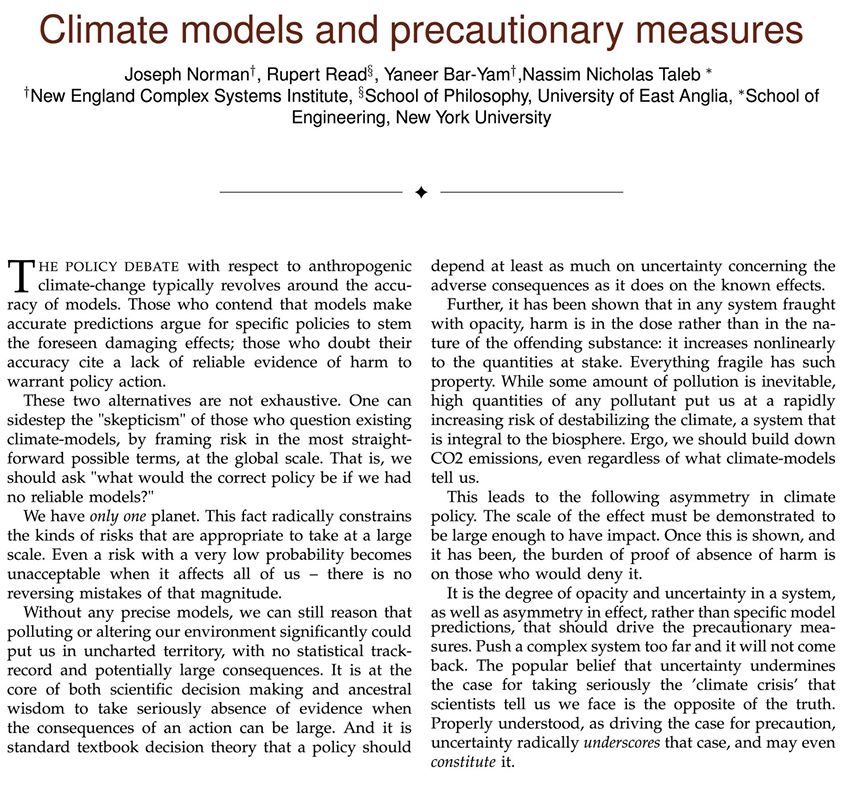 Posted on Nassim's facebook page.
This is an audio recording of Nassim speaking at the Stanford Technology Ventures Program's Entrepreneurial Thought Leaders series. It's called How Things Gain From Disorder.
On twitter, Nassim refers to a "mistake" he made "about power laws with 'near-infinite' but not infinite support." He explains in this document:
Image from fooledbyrandomness.